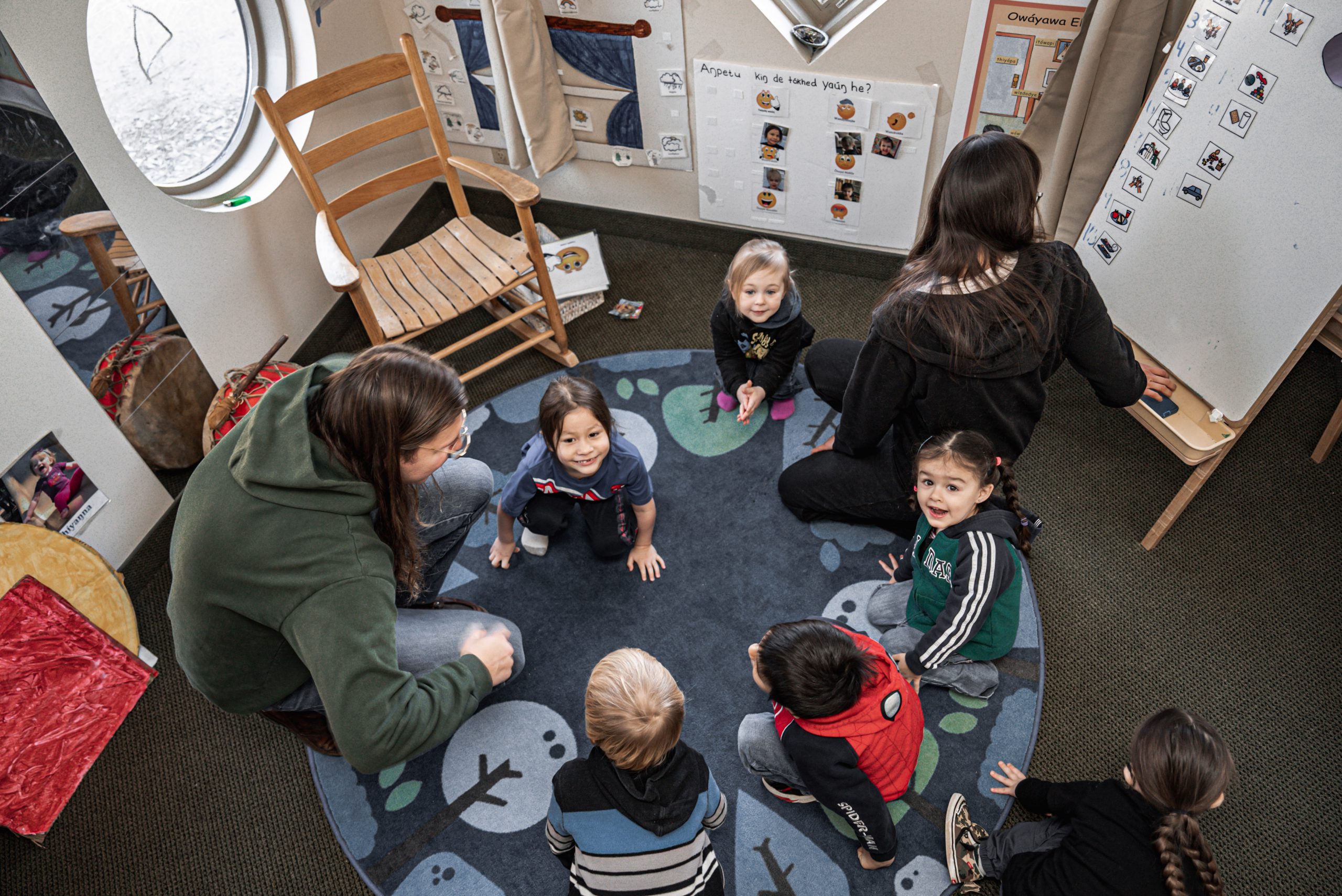 About
Dakhódiapi Wahóȟpi kiŋ ektá owás'iŋna yahípi kiŋ wašté. Dakhóta makhóče ed uŋthípi čha héuŋ iápi kiŋ de takómni uŋhdukínipi kte. Wahóȟpi ektá Dakhóta iápi kiŋ de theúŋȟiŋdapi k'a aŋpétu iyóhina uŋkíapi k'a uŋkúŋspepte. Wahóȟpi ektá thaŋkád uŋškátapi úŋkhaŋ thimáhed uŋškátapi, úŋkhaŋ zaníya waúŋtapi k'a wóyakapi uŋkúŋspepi k'a dená owás ečháuŋk'uŋpi ičhúŋhaŋ Dakhód uŋkíapte. Dakhód iápi kiŋ uŋhdúkinipi awáuŋčhiŋpi.
The University of MN sits on Dakota homelands and is home to many Očéthi Šakówiŋ people. The goal of the Dakota Language Nest at the University of MN is to breathe new life into the Dakota language, such that it lives on as the original language of Minnesota. In Dakota, it is said that šičéča kiŋ wakháŋpi, children are sacred. By returning their Dakota language to the children through play, outdoor exploration, art, and loving interactions, we allow the children of Minnesota to lead the way toward a bright Dakota future.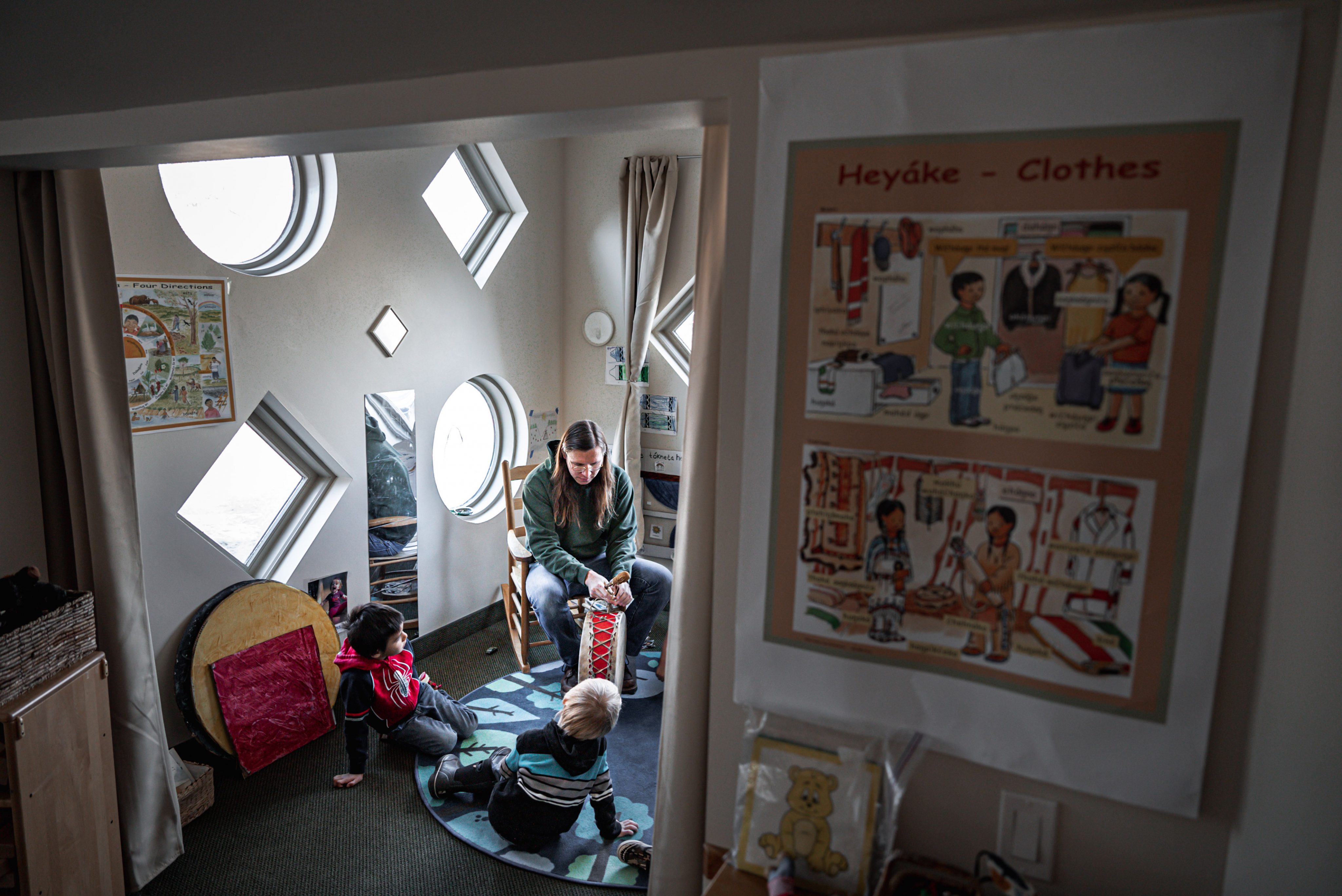 When families enroll a child in the Nest, they become part of our language community. Parents are asked to commit to our Thiwáhe ed Uŋkúŋspepi Family Education Program, which involves in-person activities once per week, and 3-4 hours of independent language learning activities. The language is returned to the children within the walls of the nest, but the goal is for them to have access to it, whenever they are in their home, with their siblings, and with their grandparents. Enrollment in the Nest is limited in order to optimize the ratio of adults to children. Dakota families and those who are part of the University of MN community are given priority to enroll. It is our goal to enroll all families who are committed to language revitalization, regardless of financial resources. Please do not hesitate to apply; scholarships are available.
Learn more about enrolling
Waúŋspewičhakhiyapi – Teachers
Brenda Toscano (White Face), Lead Teacher
Haŋ, Mitakuyapi
Brenda Toscano (White Face) emakiyapi ye, Pine Ridge ektaimachage Bde Ota Othunwe ded wathi
Hello my relatives,
My name is Brenda Toscano (White Face). I was born and raised in the Pine Ridge Indian Reservation; I am a first language Lakota/Dakota speaker. I have taught the Dakota language in an Immersion setting for many years, it's an honor to teach and revitalize a dying language. I plan on attending the University of Minnesota to earn my teaching degree so that I may continue teaching the Dakota language to future generations in a classroom setting.
Justis Brokenrope, Assistant Teacher
Háu mitákuyepi, Justis Brokenrope emákiyapi do. Nabdáska héčhiya imáčhaǧe, ómakha šakówiŋ heháŋyaŋ Bdé Óta Othúŋwe ded wathí. Šičháŋǧu Oyáŋke ed omáwapi.
Hello my relatives, my name is Justis. I grew up in Nebraska, have lived in Minneapolis for the last seven years, and am an enrolled member of the Sičháŋǧu Lakȟóta tribe.
I enjoy learning and sharing our L/Dakhóta language and helping towards its revitalization amongst the Očhéti Šakówiŋ. I believe these children today will be the next generation of first speakers and the ones who will carry the language forward for future generations. I look forward to working with and learning from these young speakers and their families. Phidámayayapi do.
University of Minnesota – BA American Indian Studies/Dakhóta Language Focus
Owáyawa Thípi – Location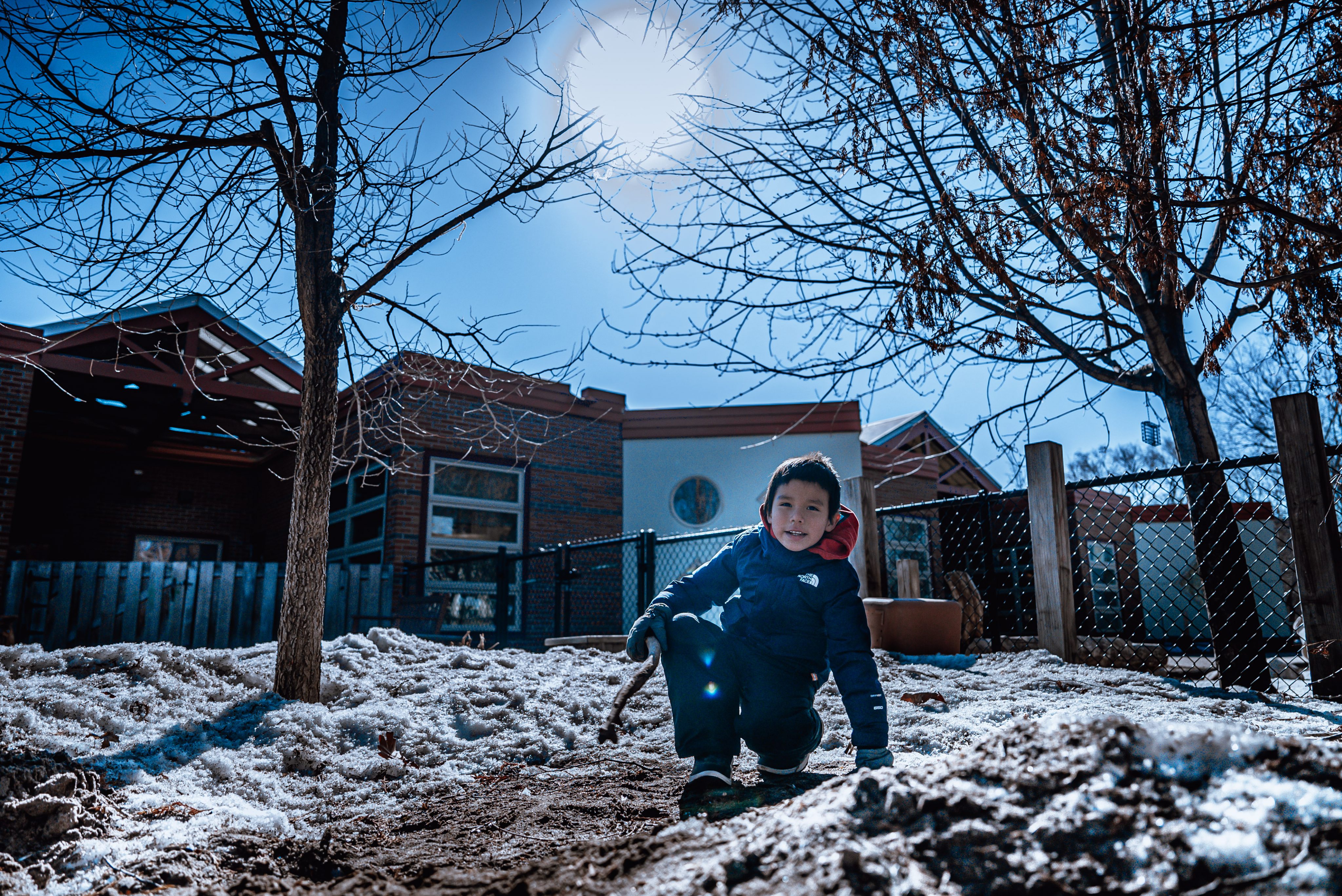 The Dakota Language Nest occupies a beautiful space within the newly purpose-built Child Development Laboratory School on the U of Minnesota campus, near Dinkytown, Bde Óta Othúŋwe (Minneapolis). The rooms are filled with natural light and natural materials, there is a dedicated art space, and naptimes involve a star projector to facilitate learning Dakota traditional star knowledge. At least half of each day is spent in our dedicated outdoor space, which includes gardens in planter boxes with traditional medicine plants, cedar trees, and an outdoor mud play kitchen. We also take regular trips to nearby parks, landmarks, and wooded areas.
Wóuŋspe – Curriculum
The curriculum is developed based on Dakota traditional lifeways, children's interests, and the environment around us. Children learn through the Dakota language and through play and projects. Here are some of the ways we spend our day:
Hípi ka Yútapi – Arrival & Meal
Wóčekiye ka Azídya – Prayer & Smudging
Dowáŋpi – Singing
Iyékiyapi – Identifying in Nature
Thaŋkád okábdaya škátapi – Outdoor free play
Wóyakapi (naȟ'uŋpi) – Storytelling
Mázaska – Finances
Tuition for the Language Nest has been partly subsidized by grants. The cost to parents will be approximately $800 per month.
Wóiwaŋǧa – Questions
Contact us if you have any questions about the Nest. wahohpi@umn.edu
Support
If you would like to support the Dakhódiapi Wahóȟpi, please visit here to make a gift.